Welcome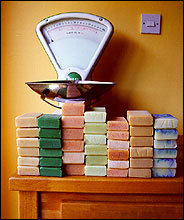 The Natural Soap Company makes some of the most luxurious and beautiful soaps available anywhere in the world. Tucked away in Wells-next-the-Sea on the North Norfolk coast, we are one of the oldest commercial handmade soap manufacturers in England. While we long ago outgrew our kitchen table, we still insist on the finest-quality natural ingredients and only ever use aromatherapy-grade essential oils for our scents and still hand-make, hand-cut and hand-wrap in small batches to our own unique, and by some standards decadent, recipes.
Please enjoy your visit to our website – it includes a safe, secure on-line shop linked to our first-class mail order service as well as details of our products for both the public and for wholesale and trade customers, including hotels, B&Bs and shops. And if you're ever in our corner of Norfolk, why not drop in and see us in our wonderful little shop right on Wells quayside?
    — Sara Phillips, founder
Visit our quayside shop
in Wells-next-the-Sea
We offer an efficient mail order service so you can buy our soaps any time you choose from this website. But if you're out and about in North Norfolk, why not drop into our small but perfectly formed shop right on the quayside in Wells? The Soap Shop offers our range of luxury soaps and toiletries hand-made just up the road as well as gift baskets, accessories and a sometimes eclectic selection of items from other producers such as scented candles and holders. The shop is easy to find... it's almost right under the gantry on the landmark Granary building overlooking the harbour and marshes. It's not all bracing walks, muddy children, crab-lines and buckets you know... pop in and pamper yourself!
We are open every Wednesday, Thursday, Friday and Saturday, 11am-4pm
News and other bits and pieces...
Shop opening hours
Mon 5 Jul 2021
Just a reminder that our tiny shop on Wells quay is open from 11am to 4pm on Wednesdays through to Saturdays throughout the summer and into the autumn and winter.
The shop is almost under the gantry on the much-pictured Granary building on Wells quayside (NR23 1JT for SatNav or immediate.occupy.dark for What3Words) so it's easy to find but if you're coming by car you'll need to be parked nearby, either on the quay or in one of the town's other car parks, as there's no parking outside.
Shop window for Pride
Wed 23 Jun 2021
Radclyffe Hall, Marlene Dietrich, Alison Bechdel, Tove Jansson, Frieda Belinfante, Megan Rapinoe and Virginia Woolf grace our shop window this month for Pride in a set of beautiful pen and-ink portraits. Slightly less tastefully, the window also features a limited edition Gay Bar, a multicoloured (though not quite rainbow striped) special edition made from our other soaps priced at £5 per bar, all of which we are donating to AKT (the Albert Kennedy Trust), a charity which provides invaluable support for LGBTQ+ young people facing or experiencing homelessness or living in a hostile environment.
We've only made a few batches of this soap so first come, first served...
Visit the Gay Bar product page...
Nettle & Rosemary shampoo bar
Made with an infusion of nettle and rosemary leaves and scented with juniper, lavender and rosemary essential oils, this shampoo soap is packed full of nourishing oils to give your hair and scalp a treat.
Gay Bar soap
We've some stock left from Pride of our special limited edition Gay Bar. This mixes some of our other soaps in a frankly poor effort to reproduce the rainbow flag but on the good side the label is mildly amusing, the soap is lovely and we're sending every penny of the £5 asking price for each bar sold directly to the Albert Kennedy Trust, the charity which provides invaluable support for LGBTQ+ young people facing or experiencing homelessness or living in a hostile environment... that's a 100% donation to AKT (postage excepted) and some nice soap to go with it.
Only available while stocks last!
Gardener's Hand Cream
A silky hand cream that absorbs quickly, leaving your hands soft and smooth and not greasy. It is gently scented with the same essential oil blend that goes into our Gardener's soaps, namely lemongrass, litsea and patchouli essential oils.