Welcome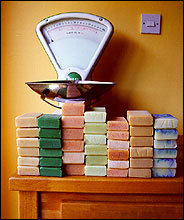 The Natural Soap Company makes some of the most luxurious and beautiful soaps available anywhere in the world. Tucked away in Wells-next-the-Sea on the North Norfolk coast, we are one of the oldest commercial handmade soap manufacturers in England. While we long ago outgrew our kitchen table, we still insist on the finest-quality natural ingredients and only ever use aromatherapy-grade essential oils for our scents and still hand-make, hand-cut and hand-wrap in small batches to our own unique, and by some standards decadent, recipes.
Please enjoy your visit to our website – it includes a safe, secure on-line shop linked to our first-class mail order service as well as details of our products for both the public and for wholesale and trade customers, including hotels, B&Bs and shops. And if you're ever in our corner of Norfolk, why not drop in and see us in our wonderful little shop right on Wells quayside?
    — Sara Phillips, founder
Visit our quayside shop
in Wells-next-the-Sea
We offer an efficient mail order service so you can buy our soaps any time you choose from this website. But if you're out and about in North Norfolk, why not drop into our small but perfectly formed shop right on the quayside in Wells? The Soap Shop offers our range of luxury soaps and toiletries hand-made just up the road as well as gift baskets, accessories and a sometimes eclectic selection of items from other producers such as scented candles and holders. The shop is easy to find... it's almost right under the gantry on the landmark Granary building overlooking the harbour and marshes. It's not all bracing walks, muddy children, crab-lines and buckets you know... pop in and pamper yourself!
News and other bits and pieces...
The Ostrich in South Creake chooses us!
Fri 16 Apr 2021
I am proud and pleased to say that The Ostrich Inn, South Creake, Norfolk has picked us to supply them with guest amenities in the form of little soaps, hand wash and body lotion.
The building, in the heart of the village, has been empty since 2017, but Teresa and her team have taken it on, plus the cottage next door, and are in the process of re-doing the interior and the exterior to offer letting rooms, a bar and restaurant and a self-catering cottage to book too. The Ostrich will open from 1 July, but they are taking bookings now.
And on top of the fabulous new offering of food, drink and beautiful rooms, I reckon the icing on the cake is the presence of our soaps, custom labelled for The Ostrich, in every room.
Best of luck to all and I'm really looking forward to seeing it when it's finished. Sara
The Ostrich Inn, South Creake, Norfolk
The Soap Shop is back!
Wed 14 Apr 2021
Our tiny shop on Wells quay has reopened, with fresh stock and a touch of paint and we'd be delighted to see you. We stock our full range of soaps, shampoo bars and other products all handmade just up the road in Wells-next-the-Sea, along with some accessories and related products from other suppliers.
The shop is almost under the gantry on the much-pictured Granary building on Wells quayside so it's easy to find but if you're coming by car you'll need to be parked nearby, either on the quay or in one of the town's other car parks, as there's no parking outside.
The shop will be open from 11am to 4pm on Wednesdays through to Saturdays throughout the summer and into the autumn and winter - assuming all is well with the world by then.
Nettle & Rosemary shampoo bar
Made with an infusion of nettle and rosemary leaves and scented with juniper, lavender and rosemary essential oils, this shampoo soap is packed full of nourishing oils to give your hair and scalp a treat.
Soap Sudscription - 1 full-size bar sent every month for a year
Try our new subscription service... we'll send you, or the person of your choice, one full-size 100g luxurious handmade soap bar, each and every month for a year. We'll send only fresh stock and work our way through our range to give you a different experience every time. A soapy subscription makes an idea gift for Christmas, a birthday or anniversary or a special thank you as it's something that goes on providing a little treat and a lift for a whole year. Priced at £70 for 12 bars including post & packing, it's great value and works out less than buying the bars individually.
Gardener's Hand Cream
A silky hand cream that absorbs quickly, leaving your hands soft and smooth and not greasy. It is gently scented with the same essential oil blend that goes into our Gardener's soaps, namely lemongrass, litsea and patchouli essential oils.